PowerMetal.de
ROST & BORKE – Afterlife
Exciting introduction of an unruly, hard-to-digest, but inspiring band.
The year 2023 is already almost halfway through history, and it's going at a fast pace, but a small, fine EP from the past year 2022, produced entirely by the band themselves, is still urgently to be added, which almost slipped through our fingers in view of the vast number of releases. That would have been a shame, because ROST & BORKE from Brandenburg have succeeded with their first demo EP in producing a pretty strong hate record that should definitely reach your ears.
The band logo, obviously designed by Christophe Szpajdel in his inimitable way, is emblazoned in blood red on a black and white artwork, on which it seems to lead through a gate in old walls into a dark forest without return. But this first EMPEROR association is deceptive, because the Brandenburgers do not indulge in the Black Metal of the great Scandinavian wave, although they may share one or two influences with it, and a good part of the mood, because the mood on "Afterlife" is also hard, harsh, pitch-black, grim and hopeless.
Stylistically, the first association that comes to mind with the opener 'On Defensive Shores' is indeed MOTÖRHEAD's 'Orgasmatron', because similarly bass-heavy, with a haunting, dragging groove, the track waltzes like a tank track through the musty morass that – if you believe the band info – certainly characterises the local swamps and river meadows. The leads can't deny a touch of NWoBHM here and there and also make me think a little of TANK.
The band openly confesses to the very old school, and who would want to contradict them when the similarly tough, unruly 'The Day I Died' sounds, which in this way could also come from a doom version of BATHORY's "Requiem" or the first CARNIVORE, all of which are among the band's influences. The playing of bassist Merula Turdus always takes a very present role, which gives the whole sound a certain closeness to Crust, and is damn effective.
The nasty gurgling, throaty voice of frontman Odrogath da Vyr fits perfectly, reminding me a bit of Martin van Drunen or Ola Lindgren. In this way, the title track "Afterlife" is one last grenade thrown in the direction of the enemy lines, and the EP ends with the liveliest piece, which can still be located neatly in the doomy Black/Death genre.
"Afterlife" is thus unquestionably a very exciting demo entry of an unruly, hard-to-digest, but inspiring band, from whom we expect a lot though, because nasty, blackened Doom/Death is always worth lingering over.
Score: 8,00
Editor: Rüdiger Stehle
Waldhalla
ROST & BORKE
Afterlife
Under the name Rost & Borke (Rust & Barke), a new band, albeit partly made up of old hands, is embarking on a musical pilgrimage in search of the stuff with which your ears can be beaten up in the best possible metal way and manner. Having been inspired by numerous favourites such as Bathory, Asphyx, Black Sabbath, Bolt Thrower or Manowar – to name but a few – for years, they now want to get their own act together. And with the three-track demo "Afterlife" they already give an early impression of their seemingly very over-motivated abilities, which, however, benevolently show where the started journey could lead. The first track "On Defensive Shores" is already a decidedly oddball piece of music, with unruly guitar beats that nevertheless bump along in a recognisable pattern, with which the idea of a Rumpelstiltskin dancing around a fire is not far-fetched. No kidding, such unconventional sounds inevitably make you think of something strange like that, a goblin polka or a wild camel ride for all I care, because it's more than obvious that you're being offered some pretty unusual fare here, one that's still a little different than different. But this is precisely what makes it as exciting as Sinbad's adventure, while we're on the subject of the bumpy camel ride. The second song "The Day I Died" hits the classic Death/Doom notch. Odrogath Da Vyr's vocals (what a name! Definitely not off the peg!) come out much better in the laborious snail's pace that prevails here. It is abysmally droning, in addition afflicted with a deathly pregnant overtone, naturally serving the song title, in order to transfer a slightly morbid nuance to the listener together with the sprinkling guitars. The title track is of a similar nature, but towards the end it travels on a guitar track reminiscent of Black Sabbath and co. All in all, "Afterlife" – not throwing the rumbling basement sound of a demo recording into the mix – is quite a charming affair that gives hope for a nice doom surprise in the near future. And nobody should object to a wild acoustic ride, right?
Written by Adam on 8 April 2022
Rock Hard # 418
ROST & BORKE
Afterlife (13:29)
ROST & BORKE's rumbling brings back memories of the early East German extreme metal underground, and indeed the band comes from the early nineties heroes Under Black Clouds (see Ars Metalli article in issue 414). "Afterlife" offers three times tough death metal with rehearsal room flair and completely unconventional song structures, which the relevant labels should give a wide berth to. All the more reason for veteran scene followers to rejoice in this sound that is completely out of time; the quartet, which was reshuffled after the recording, promises that this demo is just a prelude to something big, and as such it is a lot of uncommercial fun.
Afterlife" is available as a limited edition tape or CD-R from www.rostundborke.com
Andreas Schiffmann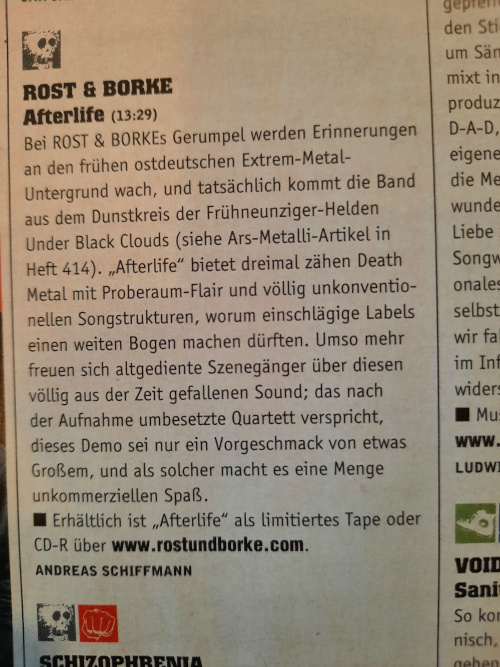 Twilight Magazine
ROST & BORKE – Afterlife
ROST & BORKE is one of the most unusual and promising band names I've come across in recent years. And not only the name and logo sound and look enticing. The artwork and the title "Afterlife" also arouse certain expectations and associations with unpolished doom, death or gothic metal of the 90s. So I just couldn't and didn't want to resist a review.
The band has its roots in Brandenburg and Thuringia and was founded in 2020. Officially, they have dedicated themselves to epic death and doom metal. Among the influences, a whole series of relevant top-class musicians and scene veterans appear in the band info. The demo "Afterlife" was recorded in May 2021 with a guest guitarist. In the meantime, only bassist Merula Turdus and singer Odrogath Da Vyr are part of the recording line-up. A new record is in the works.
But back to "Afterlife".
My high expectations were confronted with reality quite rudely after the first notes and beats. The reality of a wannabe writer in his mid-forties who, out of insight (?) and self-knowledge (?) about his own musical abilities, has traded in pens and microphones for pens and keyboards and asks himself on the first run-through whether a demo like "Afterlife" really needs to be released in times when the underground is overflowing with uncut diamonds from countless bands, let alone should be. The opener "On Defensive Shores" is a dirty uptempo stomper with a rock 'n' roll edge, which, apart from the leads, scores points with Odrogath Da Vyr's throaty growls. The sound has more of a rehearsal character and is as unpolished and raw as it is undifferentiated and mushy. The creaky bass of Merula Turdus, which plays a leading role on all three tracks, stands out. At first you have to cope with the rather abrupt end of "On Defensive Shores". It comes almost without warning and raises the question of whether this was an accident, a technical error or actually intended? But there is no time for irritation. "The Day I Died" sneaks slyly through the undergrowth and is up to no good. It's better to avoid this sonic infamy, not only because of Odrogath's less convincing and somewhat weak croaking vocals. The closing title track "Afterlife" is once again dragging and comes along worn, but it comes up with an almost devotional and hymn-like atmosphere.
Somehow I don't recognise a clear line and actually this demo would almost be predestined for a classic review. "Afterlife" seems" to me objectively musically dispensable and unessential in every respect. However, the almost naïve conviction to simply put out something so imperfect again commands my respect. It takes me back to a time when a twenty-year-old metal head spent more time in rehearsal rooms, clubs and pubs on and in front of stages than in his first own flat. The big wide metal world had only been waiting for us and was at least open to us at concerts, filthy, smoky, dripping with sweat and with what felt like 6.66 per mille on the kettle. ROST & BORKE embody this charm for me on "Afterlife". It shows dedication, maybe even overconfidence, but also attitude, which means much more to me in this form than an overpriced, dead-produced, musically just as irrelevant picture single by Amon Amarth….
Only Tape Is Real!!!
– Created on: Sunday, 20 March 2022
– Label: Own production
– Date of release: 01 February 2022
– Editor: Jens Dunemann
– Playing time: 13:20
– Websites: https://rostundborke.com
https://www.facebook.com/ROST-BORKE-363735578065355/
https://rostborke.bandcamp.com/
Rock Hard # 414