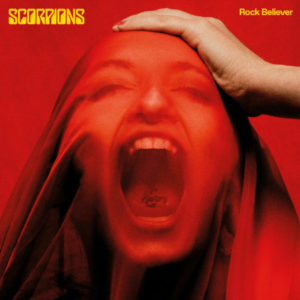 Scorpions – Rock Believer
Vertigo
44:31 min
Hard Rock / Heavy Metal
For God's sake, what kind of cover un-artwork is that?!
Dear Scorps, this record will sell hundreds of thousands of copies, including downloads, it's the first official album in seven years and I'm sure you had a consultant, or even two, for this longed-for release.
And then a screaming woman with a bag or curtain over her head?
Granted, this is not the worst cover of your great career, but please do not take it as a compliment.
The compliments start right now, because everything else about this album is just great.
Every single song is a medium to good hit. The fact that there is no world hit rather confirms the very high average of this after all world class album.
Minus said ballads and global hits, "Rock Believer" is most reminiscent of "Love at the first Sting" and even "Black Out", but with an even warmer rock sound.
After the atmospheric rocker "Gas in the Tank" and its successor "Roots in my Boots", more melancholic songs like "Knock em Dead" or "Call of the Wild" follow, alternating with heartwarming, optimistic rockers like the title song and probably the biggest banger of the album, "Peacemaker". And yes, the last song is a ballad. It's called "When you know (Where you come from)" and is definitely not on any hit parade in the world.
Admirable.
The album is also available as a limited double CD with studio bonus tracks. You can have it, but the listening pleasure won't be a bit worse without it.
Finally, a personal apology.
Scorps, after the rise of Death Metal, and even more so after the quasi-elitist Black Metal captured me in the mid-1990s, I joined the chorus that mocked and verbally tore you apart, I made fun of your perceived stale image and Klaus' accent. As if Nana Mouskouri's Greek accent and Mireille Mathieu's French accent weren't just the incentive to buy for millions of fans in the German-speaking world.
But I never wanted to go with the flow. But well, a few years ago I remembered all those moments in the 1980s when the band "Eisenherz" from Frankfurt (Oder) played "Big City Nights" live on the beach at Lake Helene and I went into the splits in a fishnet shirt and skinny jeans and headbanged, playing air guitar as hard as I could.
Scorpions, I love you. Forever.
(merula)