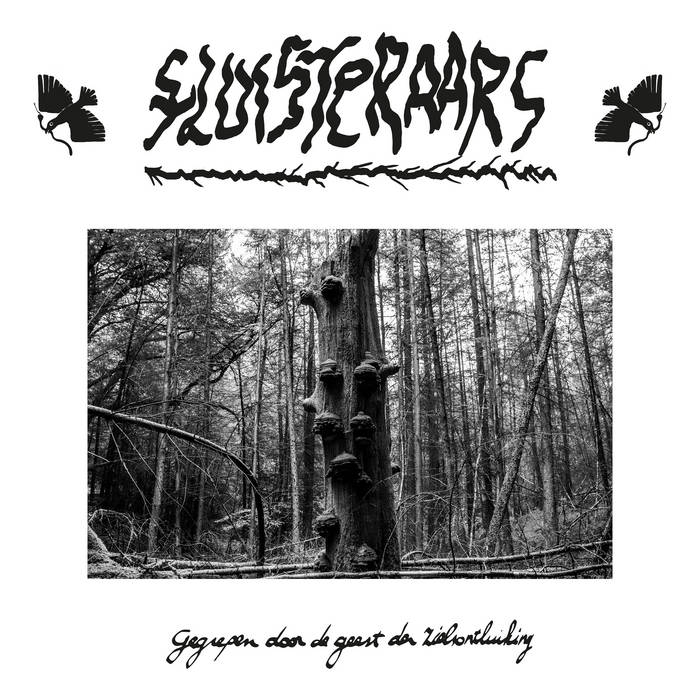 Fluisteraars – Gegrepen Door de Geest der Zielsontluiking
Eisenwald
35:35
Black Metal
Opinions were divided about the previous album "Bloem" – but I loved it before I had even heard the first note. A Black Metal record with a flower meadow on the cover, that's what I always wanted!
Opinions will also differ on "Gegrepen Door de Geest der Zielsontluiking" again, but maybe not on the warm, light-filled atmosphere of the predecessor, but on the really exuberant joy of experimentation of their newborn.
Shall we talk about it?
After a few short drum beats, "Het overvleugelen der meute" begins with a furious tempo, shimmering guitars with a nice amount of reverb and full of heartrending, melancholic drama and immediate vocals from Bob Mollema, who, by the way, is jangling in exactly the right direction.
The piece changes tempos every now and then in just the right way, the last two minutes then consisting of more experimental sounds.
It's not that I wouldn't like the song without those two minutes – it's still fun to listen to and let yourself fall into it.
"Brand woedt in mijn graf" starts seamlessly afterwards and roughly follows in the footsteps of the first song, which is meant as a great compliment.
The third of three songs is the 20-minute "Verscheuring in de schemering", and here you would be doing the band an injustice if you regarded the experimental part of the song as an accessory – after all, it is an essential part of the song with all its surprising, not always (fortunately) easy to follow pans and changes, with its adventurous, spacey instrumentation and the spiritual mood. Which is also deeply enthusiastic in its black metal sector.
And while we're talking about enthusiasm – I especially like the biting bass in the pleasantly transparent, differentiated overall sound, the guitars are noble-black, the vocals matured and partly of the very finest really hysterical high screeching, the drums good and song-serving. Nice cover and booklet too!
P.S. If you always wanted to know how real experts transform a rock n roll riff with minimalistic variations into an epic black metal riff in no time, listen to "Verscheuring in de schemering" from 12:45 min. on.
(merula)