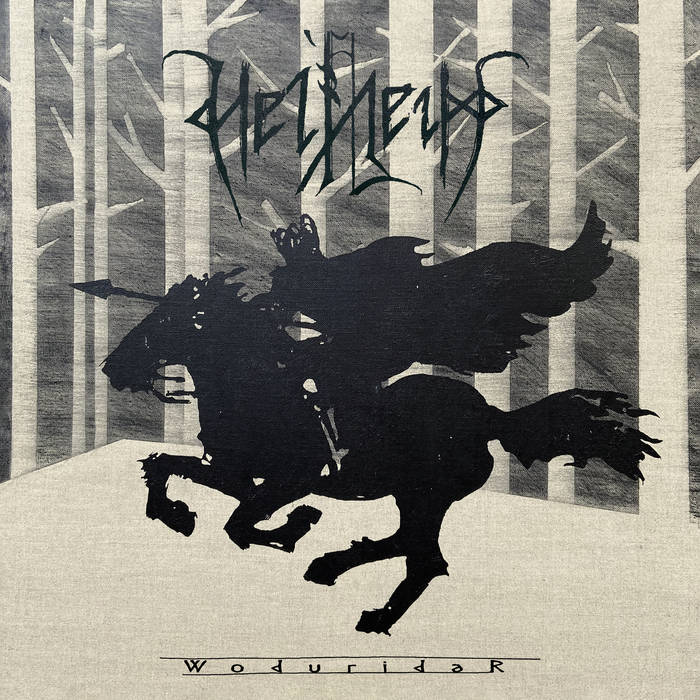 Helheim – WoduridaR
Dark Essence
57:14
Black / Viking Metal
Helheim from Bergen have released a new album, which in itself is reason enough to rejoice. However, with this, their eleventh longplayer, they have heaved such a great milestone into their oeuvre that it is worth collecting enough firewood for a whole bonfire.
After a short quasi-intro, the album starts brilliantly with the high-speed slashing weapon "Vilje av Stål". With a murderous twenty-second scream, a firework of drumming and wild guitars begins, which, however, quite soon change into – still high-tempo – melodic guitars and delightful alternating vocals between harsh and clear.
Adorable! Sounds so much like the best mid-nineties Norse Viking / Black Metal that even Helheim themselves could hardly manage in their time.
It continues with "Forrang for fiede" with a still high musical tempo, which however offers plenty of variety within the speed that makes every black metalist happy, as well as quite progressive guitars and ulveresque Bergtatt vocals.
The following title track deepens all this and, apart from a very successful vocal, relies on a ravishing, melancholic mood and stylistic devices such as ominous drums.
As if variety wasn't already a big issue on this album, "Åndsfilosofen" even tempts with sublime bitter-sweet choruses that almost remind me a little of a black metal version of "Sistinas". Great!
"Ni s solu sot" starts with very melodic guitars and is generally a bit quieter, but all the more epic. This points the way for the further course of WODURIDAR, because the album becomes more and more thoughtful and epic, finally ending with the hymn-like "Det kommer i bølger". Am I mistaken, or does the band very skilfully combine Bathory / Viking Epic with Americana or Dark Country?
Listen to it and form your own opinion.
Buy it, or at least check it out!
(merula)