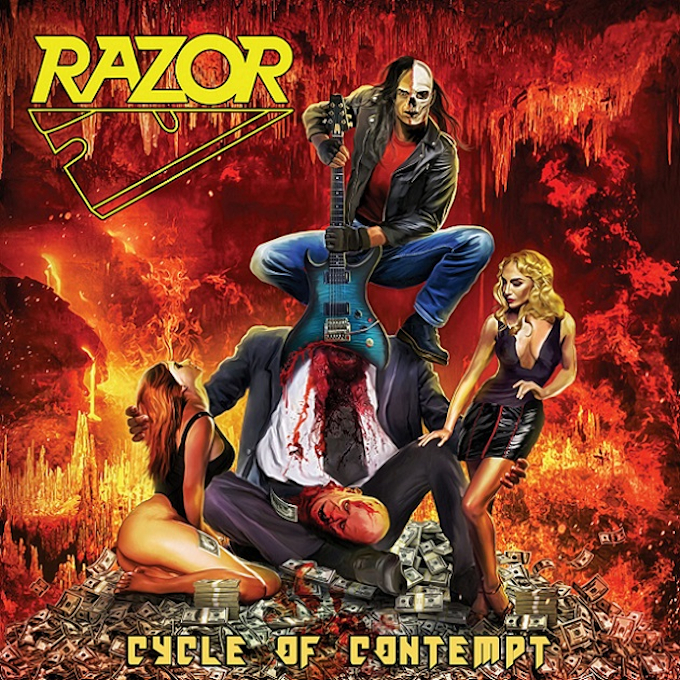 Razor – Cycle of Contempt
Relapse Records
43:02
Thrash Metal
Nobody likes a bad-tempered pub brawler, at least when you're sitting in that pub yourself.
But as a screamer behind the microphone of a Thrash Metal band, it's a completely different story; well, you guessed it: it's about Canada's demolition squad RAZOR.
We had to wait a whole 25 years for the new album, and it was worth it; but so worth it.
The most important new feature: there is none! What a tasty message in these crazy times.
A small, iconic intro is followed by the first grenade with "Flames of Hatred", eleven more of similar calibre follow, whereby especially "First-Rate Hate" stands out to me in a particularly positive way.
Due to the largely reverb-free production, Bob Reid's piss-poor vocals sound as direct as if he were speaking to you personally, one last time before you feel the dull taste of your own blood in your inner facial area.
This is Razor we're talking about, so it's perfectly fine for the drumming to be at the opposite end of Mike Portnoy on any scale, and sometimes a bit reminiscent of a hysterical metronome. Fits like head on a bucket!
The guitars are blaring at their best, the riffs are sawing. And whoever finds a sequence of notes a bit arbitrary now and then is probably called Heino by his only name.
The guitar solos are a bit unspectacular, but fitting; and honestly, there's so much action in the songs that less is probably really more here.
Cover old school, lyrics, well you guessed it, extremely unpleasant, and that at its best. Revenge, beatings, murder and all that.
It's the overall work of art that inspires. Brutal, aggressive, rushed, neck-breaking, direct and absolutely honest. What more do you want?!?!
(m)