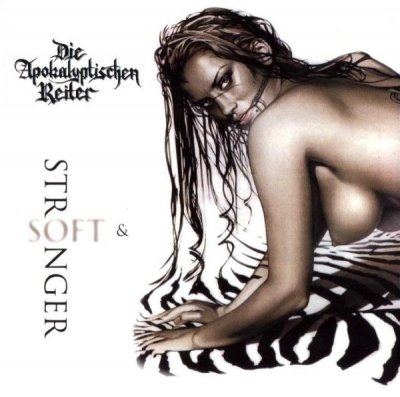 Die Apokalyptischen Reiter – Soft & Stronger
Ars Metalli
40:02 min
Reiter Metal
The story of the best band begins with a horse whinny, and that's a good thing.
Sure, before that there was a spectacular demo and a story about the actual formation of the band that was as coincidental as it was endearing and worth believing, but a horse whinny plus bass guitar tones introduce the album that paved the way for the Thuringian formation to a world-spanning career.
"Iron Fist" shows the way, but it's not until the next song "The Almighty" that the equestrian folk pull out all the stops: varied, hefty and crude death metal with epic interludes, classical piano passages and, above all, the ingenious, defining alternating vocals between deep growls (Eumel) and deviant screeching (Skell).
The wild hunt continues with "Execute" and "Downfall" up to "Metal will never die", one of the greatest hymns to metal itself. Unfortunately, not everyone understood at the time that the song was meant just as seriously as similar songs by Manowar and thought it was all an annoying joke. Mendacious lot – like listening to "Fast as a Shark" with the corners of your mouth hanging down at the disco at the weekend!
In this early phase, of course, the band didn't play as mature and balanced as they did from the 2000s onwards, often hacking away wildly, but that was exactly what was so extraordinary about this unique combo: In a world where you thought everything about Black, Death, Heavy, Thrash, Speed Metal had already been said, four guys impetuously pushed their way from their rehearsal room straight to the front row, on and on. Impressive to this day – and in this one certain way also their best album. Revolutionary.
It couldn't be duplicated, and the clever Reitervolk knew that, and from then on they followed a path of metallic vicissitudes that can be perceived as ingenious or exhausting, depending on taste, but never as mediocre.
(merula)