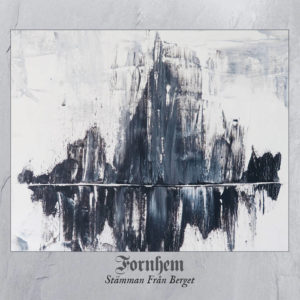 Fornhem – Stämman Från Berget
Trollmusic
49:11 min
Viking / Black Metal
Raw sound and great melodies not only make a nice pair, but also a pleasant contrast to War Metal on the one hand and Symphonic Wacken Metal on the other.
The best recent example is Fornhem from Norrköping, whose first album "Ett fjärran kall" was already inspiring, but the present second album immediately entered the first league of my heart.
The opener "Den Längsta Dagen" begins with crackling fire and gloomy laughter, a magnificent piece of Viking Metal in its powerful stomping midtempo form.
The guitar theme, as simple as it is utterly moving, is constantly developed. Very slowly, bit by bit more and more dramatic and sophisticated, it leads into the raging fast middle part of the song.
Supported by pumping drums, a croaking vocal and a raw, yet transparent and all the more powerful sound, this song, this album goes deep under the skin.
This marvel lasts eleven minutes before it opens the gates to the fast neckbreaker "Uþarba spa", where the great drum work stands out once again.
Shimmering guitars and melodic bass guitar accents announce "Förlist", a ten-minute repetitive-meditative epic of a special kind. Just this repititive element almost brings me to ecstasy, similar to "Hvis lyset tar oss".
The following title song then sets off again with a tempo that only leaves me with a broad feel-good smile on my face. Boy, when their dragon boat goes off like that, they overtake the fiercest north wind without batting an eyelid!
"Untergang" is the name of the final work on this album, a gripping piece of music, an instrumental, of dense, tension-filled drama, especially striking here the eerie, ominous drums of doom.
Of course for Trollmusic, the music is packaged in an appealing exterior, and the great sound was conjured perfectly by the master Devo Andersson.
There would be so much more to tell about this album, but you know what Frank Zappe said: Writing about music is like dancing about architecture.
Which is why I'm off to a quick hour of polka at the Kreiskulturhaus, and you can get your hands on this album in the meantime.
(merula)