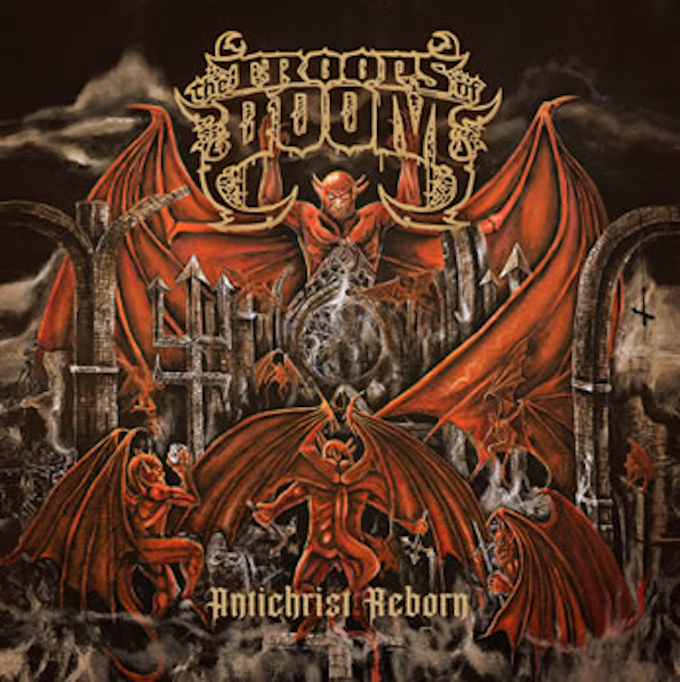 The Troops Of Doom – Antichrist Reborn
Alma Mater Records
47:05 min
Thrash Metal
When you play Sepultura at home, it has to bang and crash, and the year on the cover must not be bigger than 1989?
Then this is your album!!!
The fantastically mature Jairo "Tormentor" Guedz (who already plucked the strings on the first two Sepultura vinyls) and his men Alexandre Oliveira (dr), Marcelo Vasco (g) and Alex Kafer (voc + bg) throw such a massive longplayer on the plate after two benign EPs that every inclined fan's palate drips with joy.
The ensemble has named itself after a song from "Morbid Visions" and – even better – equipped the debut album with artwork inspired by "Bestial Devastation".
A little introduction … ehhh, introduces the first song "Dethroned Messiah", and seconds later, dear friends, the manifested purgatory hunts through the auditory canals, immediately sweeps away heart and soul. This is how to hack, this is how to bang your neck and shake your hair, everything is right here in terms of speed and hardness.
The pressed vocals in the style of old Sep's proclaim blasphemous messages, everything fits perfectly.
The fact that Peter Tägtgren conjures up a pleasantly full and natural sound here, in which real thrashing drums meet fat Slayer guitars, confirms his claim that the often clinical-sounding products from his house are not due to him, but to the wishes of the bands or even their labels.
"Grief" is a pleasant little instrumental, but – gosh darn it!!! – it continues with the steam hammer "Pray into the Abyss".
Also noticeable is the high level of variety in the songwriting, and that at this tempo and level of heaviness, as well as the unobtrusive, beautiful drama drawing melodic guitar, which often so pleasantly darkens the mood. If you listen carefully, you will recognise the voice of Joao Gordo of the wonderful Ratos de Porao in the 9th song "A Queda".
The album is enriched by two cover versions: "Necromancer" by Sepultura and "The Usurper" by Celtic Frost.
Tormentor: good to have you back!
(m)